Our Fly
Chickfly pants have a patented fly that works for everyone. It is easy to use, stretchy, zipperless, and discreet. The Beauty of our fly technology is its simplicity — all you have to do is pull it apart.
The first iteration of Chickfly pants are like yoga pants. They are comfortable, durable, and responsibly crafted. Our patented design has two overlapping stretch fabric panels that pull apart. The fly goes from front to back, allowing one to open it however much is desired. The fly snaps back into shape when released and stays put— all with the safety and ease of a zipper-less fly.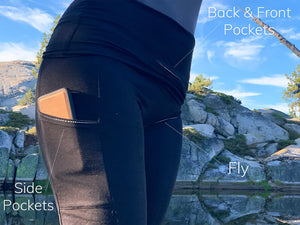 What are Chickfly Pants?
Chickfly pants have a fly that goes from front to back and wraps around the hip or thigh. We are committed to the integration of style and utility — Our pants also have awesome deep pockets to, keep all your goodies in, and customizable leg length.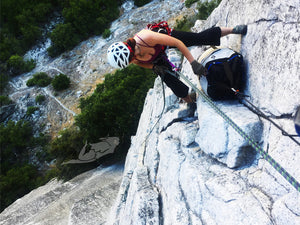 Access is the Key to Freedom...
Chickfly offers safety and accessibility. When hanging from a rope in a harness, one can access their fly without removing safety gear. People with disabilities benefit by being able to go without removing their pants. Runners can shave minutes off a race.
Our Patented Fly Wraps Around your Thigh...
Are we getting fresh with you? Yes, fresh with innovation!
Imagine you are wearing a bikini with one pant leg attached. On the other side, you are wearing another bikini with the opposite leg. Put them together and they make Chickfly pants. In the middle is a convenient opening...
You Can Open them from Front or Back...
You can open them wide or just a little bit. You can show everyone your fanny, or you can pee in privacy. You Choose. With Chickfly you won't get caught with your pants around your ankles and your ass in the air. Chickfly are the perfect hiking pants, roadtrip outfit, or travel clothes.
Biomimicry
Our design embodies the beauty & symmetry of nature. Our fly opens like a woman's body — form follows function. Like overlapping soft petals, the pant opening is supple and expansive. Yes, you may detect a little yonic body worship here, we believe the vulvas & vaginas deserve celebration!
Can you Wear Underwear?
Underwear work with Chickfly pants for peeing if they are stretchy. They can be pulled aside at the same time as the pant fly. Our original Chickfly pants style has a design that is similar to built-in underwear, so one can wear a pad or liner directly in the pants too. For an eco-friendly option one can cut up a recycled cotton tee-shirt to use as a panty-liner.
Pee with Privacy
A NSFW demonstration about how well Chickfly Pants work
Made for Everyone!
Chickfly works for all shapes and sizes from women's extra small to
extra large. We carry sizes XS though 2XL. As our business grows, we
plan to expand our size range even more. Inclusivity matters.
 Stretchy
and comfortable bamboo pants and leggings will find the perfect fit for
every size, comfort and quality matter in a pant designed for women by
women so you don't have to take your pants off. Chickfly has a patented
design that gives you another way to open your pants.
For Dudes Too
Chickfly was designed with women in mind. However men, gender fluid
people, or anyone seeking an alternative, easy to use fly can benefit
from Chickfly.  We support whoever chooses to wear Chickfly pants. Also
we hope to add a more gender neutral style to our line soon. So stay
tuned!
Yes for Every Body!
Chickfly pants are designed for everyone to enjoy. Initially, we designed them with the female, outdoor enthusiast in mind. It became clear that people from all walks of life can use these pants. They are access friendly for people who want privacy. They are comfortable for daily use. They are even suitable for extreme sports athletes. We hope to create many more styles of pants in the future with specifications that fit the desires of people doing every activity. Today we are starting with the basic black pants that we think are the common denominator in everyone's wardrobe. Everybody can benefit from a pair of Chickfly pants.